What is it ?
The Personal Transporter is an electric vehicle with 2 wheels, commonly called "segway" (brand name). The user stand on a base, or platform, between the wheels and holds onto a bar at waist height.
How does it work ?
The personal transporter use is based on the inverted pendulum principle ; it is a self-balancing electric vehicle. The personal transporter detects the change in the balance point, and adjusts the speed at which it is balancing the rider accordingly.
The rider commands Personal Transporter to go forward or backward by shifting its weight forward or backward on the platform
Why off-road ?
it can be used everywhere ! On rough ground as well as on normal roads : in a city, on the banks of the Loire river or between vines !can be used on rough ground as well as on normal roads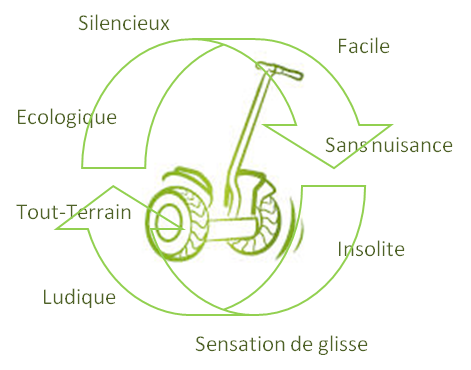 For whom ?
For everyone ! Couples, families, friends, collegues !
Can be used from 12 years old
Restrictions :
from 12 years old
not suitable for pregnant women or people with balance problems
weight restrictions : from 25 kg to 120 kg and more than 1m25
Please see our Sales conditions